The San Francisco's sophisticated Mandarin Oriental
is the third tallest building in the city. It is full of
luxurious decor, which is influenced by Asia. For
example, the colorful Oriental cushions provides a
lovely flair while creating a comfortable setting for
tea.

The Asian afternoon tea is serve in the Mandarin
Lounge at the lobby level. We were enthusiastically
welcomed by the Lounge staff that we feel at ease in
an instant. Their exclusive Japanese-style tea
service is complete with a Bento box of artistic
bite-size delicacies, including mandarin canapes,
Thai curred beef, phyllo triangles, unagi, and
avocado amaki. The sweets include artful Japanese
confections, which are made on a daily basis.
During our visit, the choices of tea were darjeeling
choice estate, orange jasmine, ti kuan yin, mountain
spring jasmine, kyoto rice, ginger twist, and mint
melange. All these teas are from the Mighty Leaf
Company and served in a traditional cast iron teapot.

Having tea at the Mandarin Oriental was a taste
experience for me. It gave me pleasure to be able
to have a chance to try something unfamiliar. In
fact, this was my introduction to Asian afternoon
tea, and I know I will encounter more in the
future.

As expected the quality of service was excellent.
Tea is serve from three to five o'clock in the
afternoon.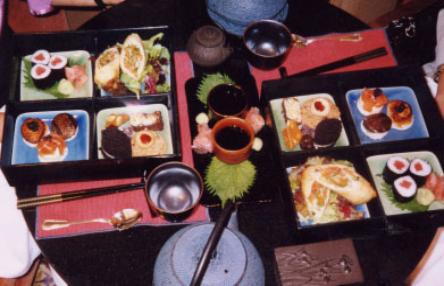 222 Sansome St. SF, CA 94104
Tel 415 276 9888