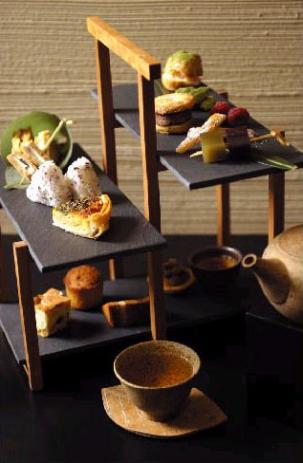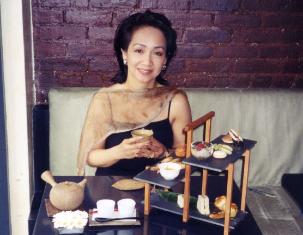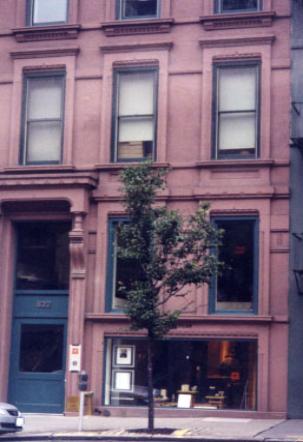 I discovered something way beyond my
expectations among the expensive boutiques
of Madison Avenue. The name is KAI,
meaning
"gathering place"
in Japanese. It is
a unique restaurant and teahouse located on
the second floor of the New York-based,
world's largest purveyor of green tea,
Eto-En.

Going up by way of stairs, I was greeted
with smiles from the staff. My eyes
wandered to the darkwood floors, and I
noticed the simplicity and serenity of the
sorroundings - it was as if I was really in
Japan. Then, I was ushered by a friendly
hostess to the rustic wooden table by the
window, overlooking Madison Avenue. The
simple floral arrangements laid on every
table were impressive. In fact, it gave me
the idea to do something similar for my next
party.

The kimono clad waitress took my order of
Zen Tea. A full service tea set of both
savory and sweet tastes. I became excited
over the list of tea, which I would say is the
finest I had ever seen. Take my word for it
... even the rarest teas in the market were
just an order away. My choice, Silver Dew,
could be described as two of the world's
finest teas meeting in a refined blend - Uji
Gyokuro with its deep herbaceous flavor and
Silver Needle with a refreshing, flowery
taste. The tea was served in handmade
Japanese pottery. A collection of
creative-looking delicacies were presented
on unique slate tiers, handcrafted by New
York artist, Jeffrey Brosk. The exotic
savories included red shiso onigiri, assorted
tea sandwiches, homemade scones, and
vegetable quiche. The East meets West
sweets selection was comprised of
honey-spiced madeleines, orange tea cakes,
and traditional Yokan (tapioca-lentil and
berries). Creme brulee and sweet red bean
pastries presented a contrast explosion of
tastes. Later, I experienced great pleasure
when washing it down with the silky texture
of the Silver Dew tea.

I was tasting and appreciating everything on
the table as if it was my last meal. The
tranquil setting, attentive service, and the
artistic presentation made it difficult not to
include KAI on my list of tea courts of New
York. Lastly, do not leave Eto-En without
purchasing something from the world's best
tea selection.

Tea is serve from twelve noon to four.
Reservation is highly recommended.