Inter-Continental Hotel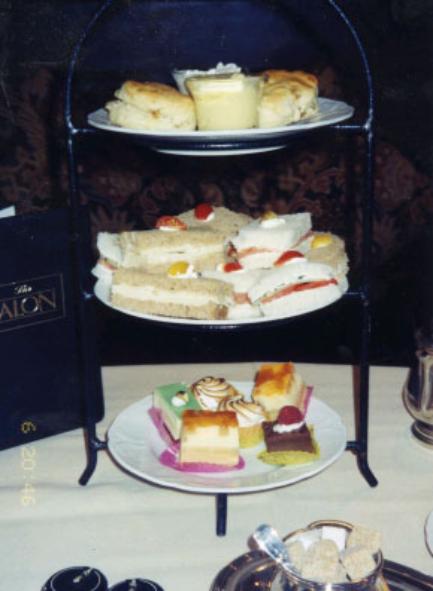 Originally built as the Medinah Athletic club
for men in 1929, it is now the flagship hotel
of the Intercontinental chain and one of
Chicago's luxury hotels. It opened its doors
in 1990, and has been the recipient of
numerous awards for architecture and
design. The four-story lobby impresses
guests with its custom design mosaic and
onyx marble floors, domed ceiling, and the
cast bronze ornamentation by the handrail
spiral staircase. This landmark hotel is so
rich in history, that a self-guided tour is
available for its mixed arts and architecture,
inspired from around the world.

A few feet off the main lobby is The Salon -
a cozy, well-furnished room where they
serve afternoon tea during our visit. The
modern sofa and chairs encourage guests
to stop by and have a lazy afternoon
conversation. The
City in Books
mural on
the wall delights the eyes and brightens up
the entire room.

When making your reservation, the
employees will tell you everything that is on
the menu ... even the type of scones they
knew they will be serving. Therefore, we
pretty much knew what to expect.

Our afternoon tea ritual began with the
traditional serving of tea sandwiches, like
smoked salmon, tomato and cucumber,
and turkey with cheese. The tea
sandwiches were plentiful, but we did not
have a problem finishing the whole thing
with gusto. In fact, it was the most we had
in Chicago. Also, the freshly-baked raisins
scones with devonshire clotted cream,
strawberry preserves, and the lemon curd
were excellent. The French pastries were
irresistible offerings of lemon orange
peacock, mini flourless chocolate cake,
pistascchio raspberry bavarian mousse,
and pear mousse. Our hostess, Martha,
was very attentive and warm. We felt like we
had known her before.

With the exceptional food and exceptional
service, our experience at the
Intercontinental was a perfect ending to our
trip in Chicago.