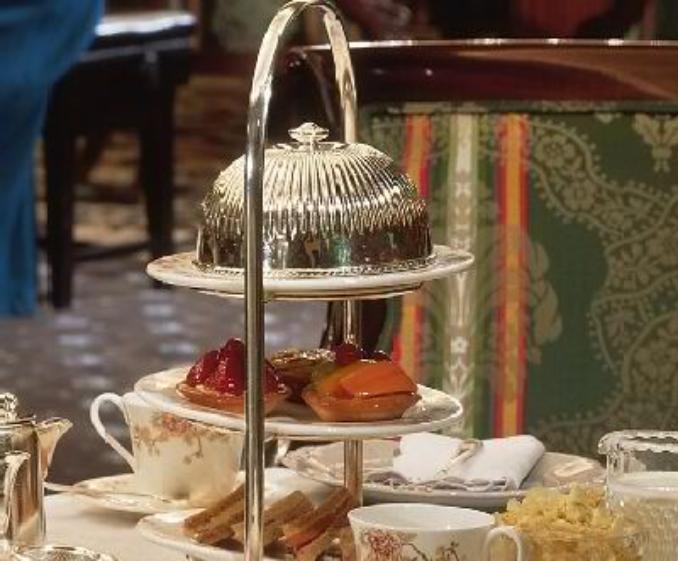 Hamilton Place, Park Lane
London W1A 1AZ
Tel. 020 7499 0888

The Four Seasons is just a short walk from HydePark and Knightsbridge. It is famed for its
impeccable amenities and top notch services in all their hotels around the world. Whenever
I am visiting one of their hotels, I know prior to my journey that I am in for a memorable
experience.

After walking in the rain, nothing could have welcomed me more than the warm elegance of
The Lounge entrance's floral urn. The harp music was playing as if beckoning me to enter
this charming room. I was assigned to a seat by the wall facing the room. I noticed the fresh
flowers in big vases everywhere. It was very warm and inviting -- just perfect.

I began my order with a selection of tea. I picked the anniversary blend created by Sam
Twining : a lightly flavored blend with orange lemon, cornflowers bergamot. One of the
choices was the Queen Mary, a blend of teas from the mountain slopes of Darjeeling -- a
personal choice by the late Queen Mary. During my visit, some of the tea sandwiches
included lamb confit with saffron in tomato bread, grilled vegetable compote in coriander
bread, and the avocado, tomato, and crab salad in dill bread.

The jam included homemade peach and nectarine are made seasonal. You can also have
strawberry or fat-free scones. I never had fat-free scones before and it's delicious!
There were so many choices that it overwhelmed me.

In fact, being alone was not bad at all -- especially when one of the staff member,
Miss Reuben, stopped by to say 'hello.'

With the varieties of the tea sandwiches, the service of the tea, the ambiance, and
the overall preparation, no wonder The Lounge was named "London's 1999 Top
Tea Place of the Year.