Four Seasons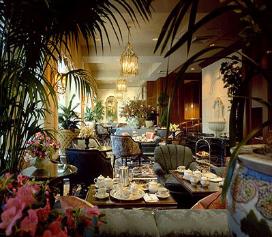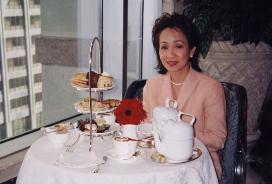 Guests that are in search of the finest
things in life can find just what they are
looking for here at the ultra-luxurious Four
Seasons Hotel. Opened in 1989, this Five
Star Mobil and Five Diamond holder is also
the tallest hotel building in Chicago.

Beginning with the finest doorstaff in the
city, one of them guided us to the elevator
and even pushed the button that would
take us to the main lobby.

The formal and breath-taking lobby
welcomes guest in grand style. We could
not help but praise the wood paneled walls,
massive, beautiful flower arrangements, - a
Four Seasons standard - and the elegant
sweeping staircase. We ventured towards
the Seasons Lounge with its grand white
marble fountain.

The Seasons Lounge is an intimate, elegant
location for afternoon tea. We were seated
by the window, overlooking Michigan
Avenue. We decided on the traditional Full
Tea, which does not include alcohol. The
selection of gourmet finger sandwiches, the
freshly-baked scones with whipped
devonshire cream and fruit preserves, tea
bread, and delectable pastries - all served
on a three-tier silver stand. For our tea, we
selected Thunderbolt Darjeeling and the
Floral Jasmine teas. These were being
steeped in a famous white bone china
teapot, crafted in Germany.

It is called "the sleeping teapot." The teapot
can be steeped on three different strength
and in three different angles. (A Four
Seasons exclusive of this teapot is
available for purchase in the gift shop). In
all, with the live piano music playing in the
background, the calming sound of the
fountain, the elegant setting, and the
exceptional food and service, we could not
help but feel pampered. We took for granted
every moment during the occasion,
because we knew it had to end somehow.

Afternoon tea at the Four Seasons is really
an special event not to be missed.

120 E. Delaware Place
Chicago, Illinois
Tel. (312) 280 - 8800