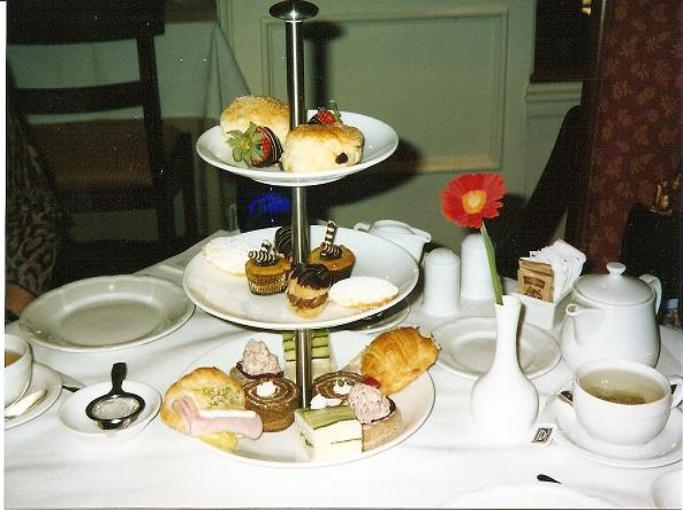 The Sutton Place Hotel

845 Burrard St.
Vancouver v6z 2k6, British Columbia
604 682 5511

Once your enter the hotel lobby of The Sutton PlaceHotel, you will feel the pure luxury of your
surroundings with the French-European decor and furnishing. Marble floors, fresh flowers and
elegant chandeliers make you wish that this is what you encounter as everyday living. We were
relieved that we were dressed appropriately for the elegant tea venue. We were greeted at the
elegant Fleuri Restaurant by the nicely clad hostess, who happened to also be our server. (I
found out later that this restaurant is the city's best fine dining room for French Continental
cuisine.) We studied the afternoon tea menu provided to us. Japanese and English tea service
are both available to choose from... however, we chose the traditional English Tea.

The aroma of the freshly brewed Lavender Earl Grey and the Afternoon Blend grazed our
nostrils while our server poured tea in our tea cups. We drew our attention to the traditional
finger tea sandwiches like the cucumber and watercress, smoked salmon pinwheel, black forest
ham and raspberry chicken salad in brioche. Our mouths were watering! Feeling pampered,
we took our timein enjoying the warm scones with Devonshire cream and fruit preserves. We
knew already that our dinner reservations were only two and half hours away, but it did not
stop us from finishing the last serving of mini French pastries like the financiers, madelines and
eclairs. The whole time our server was attentive and friendly. We enjoyed our tea experience
immensely.

They served tea daily between 2:30 - 5:00.